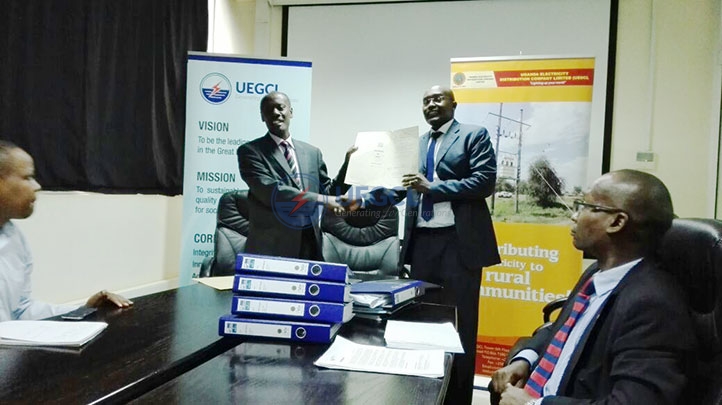 UEGCL to revamp one Mega Watt Maziba plant
If all goes according to plan, the people of Kabale in western Uganda could enjoy the benefits of getting additional power on the national grid after the Uganda Electricity Generation Company Limited moved to revamp the Maziba mini hydro power station.
UEGCL recently took over management of Maziba mini hydro, which has an installed capacity of 1MW, more than ten years after the plant stopped operating.
"In the last several months, my team from UEGCL and other stakeholders have made a couple of assessment visits to the power station to check the feasibility of revamping it," Dr Harrison Mutikanga, the chief executive officer of UEGCL, said.
Joseph Kateera, the managing director Uganda Electricity distribution Company Limited UEDCL (L) hands over instruments to take over the Maziba Gorge Mini hydro power station to CEO Dr Harrison Mutikanga
"Despite the prevailing financial and other technical challenges, the revamping of this project is inevitable," he added.
According to UEGCL, up to $2.5m (approximately Shs 8.7bn) is needed to rehabilitate and upgrade the power station. UEGCL said it is working with a number of development partners to get the financing. The station is expected to be up and running by 2018/19.
Maziba mini hydro power station was commissioned in 1963 and stopped operation in 2002 after it ran into operational and technical trouble. The power station is situated on the Kiruruma river, which flows from Rwanda, into Uganda and back to Rwanda. It has three hydro-turbines.
In 1975, Maziba mini hydro station was shut down due to floods. In 1992, it was re-commissioned after being revamped. Due to operational challenges, the station stopped operations in 2002.