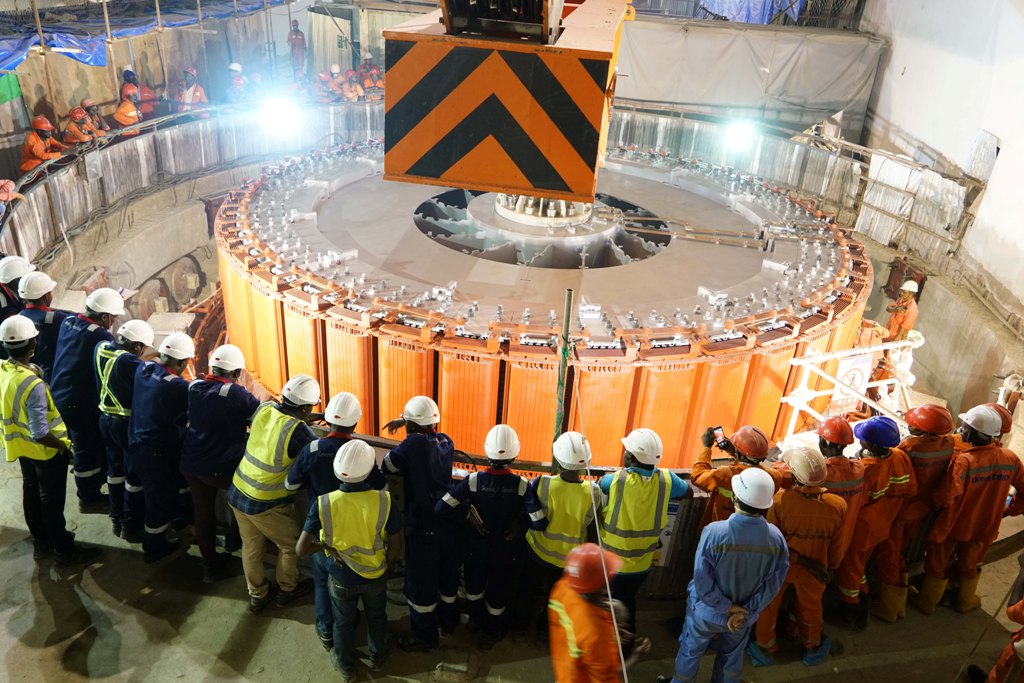 The Last of 6 Rotors at Karuma HPP lowered into pit
6 out of 6, such a perfect score! On 30th September, 2019, the 600MW Karuma Hydropower Project registered yet another vital milestone when the last of 6 rotors was successfully assembled, lifted and lowered into pit. This function was carried out by the EPCC- Sinohydro Corporation in the presence of Engineers from Uganda Electricity Generation Company Ltd (Government's Implementing Agency) & AF Consults- Owners Engineer.
The rotor is a component of the generator which provides a magnetic field that induces a voltage in the stator windings that makes a generator produce electricity. Its approximate weight is 350 Tonnes (317515 kgs) which makes it the heaviest equipment in the power house. This is the last major Electro-Mechanical installation in the power house thus a key milestone towards achieving 100% completion. On 24th July, 2018, the first rotor for Unit 3 was lifted and lowered into pit, followed by the rotor for unit 4 on 3rd September, 2018 and others followed respectively.
This milestone comes at a time when UEGCL and Sinohydro have finalized the Karuma HPP CSR projects which will see the construction of a Military Hospital in Masindi, a Civilian Hospital in Dii cuinyi, Oyam District and refurbishment of Amaji Primary school in Oyam district.
"As the government implementing agency of this project, this milestone signifies a major achievement/delivery on our task but brings more hope about the delivery of this project in time within agreed technical specifications and budget." Said Simon Peter Kasyate – Head of Communication and Corporate Affairs, UEGCL.
Karuma Hydropower Station has 6 installed generators for each of the 6 units with a generating capacity of 100MW hence the 600MW. Once completed, the Karuma Hydropower Plant and the Karuma Interconnection Line will double Uganda's hydropower production capacity and greatly reduce power tariffs, this will in turn promote growth of local manufacturing industries and job creation for the people of Uganda.