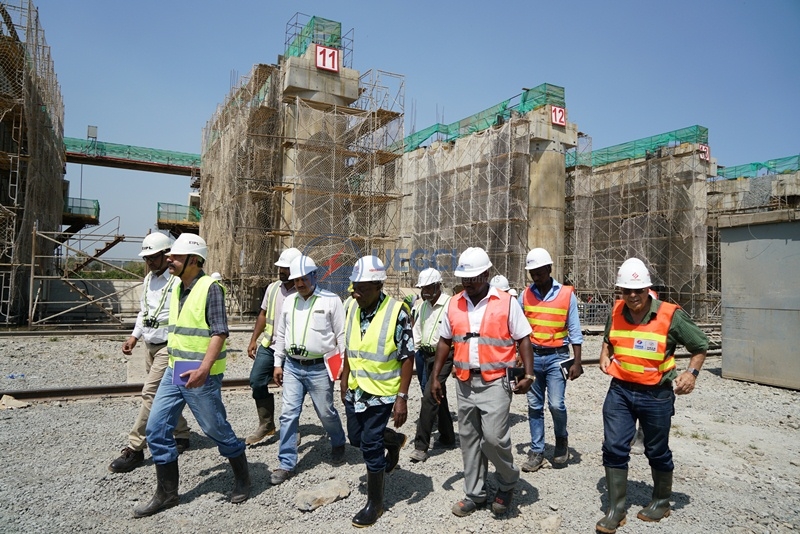 Elephatine Equipment Installations to Boost Karuma HPP Progress
The installation of Hydro mechanical (turbines) and Electrical mechanical (transformers) equipment is expected to boost the progress of the 600MW Karuma HPP. The installation of these key components is scheduled to commence in May, 2018. Owner's Engineer made this commitment during the Project Steering Committee's 2-day visit to Karuma HPP from 28th December to 29th December 2017.
The seven man Project Steering Committee (PSC), led by its Chairperson Eng. Dr. Badru KIGGUNDU; was briefed on general project progress, challenges, update on cracks curing etc; during a meeting with the site team (comprising of Contractor, Owner's Engineer, UEGCL and Ministry of Energy and Mineral development) before taking a guided tour of the site.
"The Committee's last visit to Karuma HPP was in September when progress was at 66% and I would like to inform you that currently, physical progress is at 72% as of 27th December, 2017" – Eng. Timothy MUBBALA, Assistant Project Manager UEGCL told the committee during the meeting.
On cracks treatment, Sinohydro – the EPC Contractor – assured the committee that this shall be completed by or before April 2018 to allow for post treatment testing and further rectification works (if required) can also be completed before the third phase river diversion expected to be carried out by mid-year. The cracks treatment, according to Sinohydro, shall be carried out under the supervision of specialist from SIKA following the approved construction methodology.
The PSC tasked the Owners' Engineer to address other issues, which include; Health and Safety, Security and general quality control. The PSC was assigned the task to oversee and monitor the construction of the 600 MW Karuma HPP and 183 MW Isimba HPP. The Committee is headed by End. Dr. Badru KIGGUNDU and deputized by John Berry. Other Members include permanent secretaries of the energy and finance ministries, as well as the chief executive officers of UEGCL and UETCL. The committee submits quarterly reports to the President about the projects.