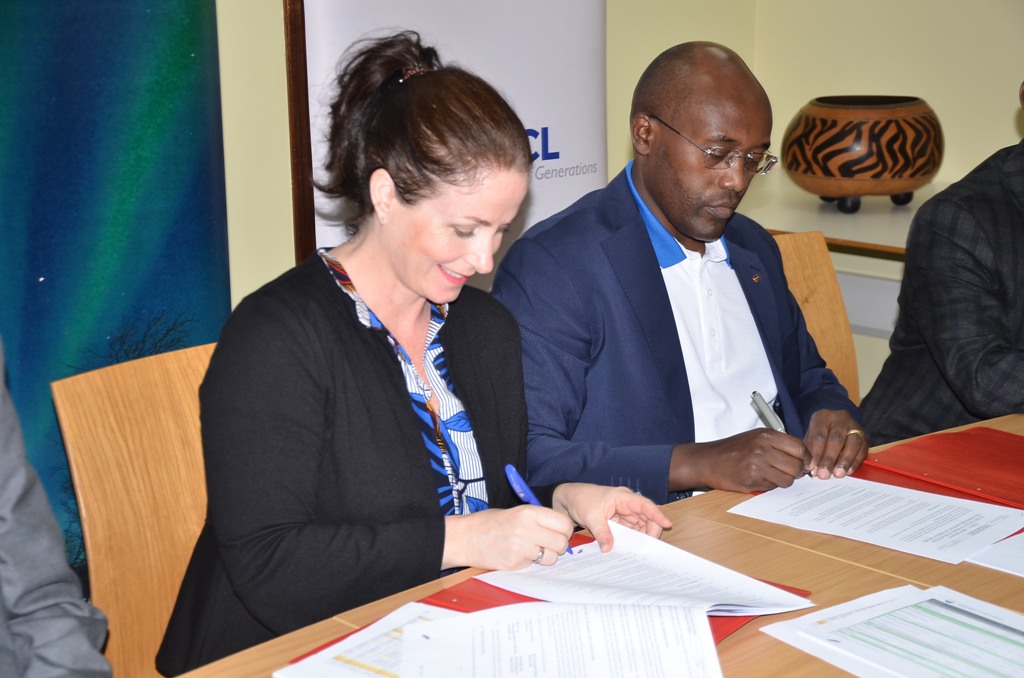 UEGCL receives 5-year Grant support from the Norwegian Government
In UEGCL's quest to operationalize its Strategic Plan (2018 -2023) and achieve its Vision "To be one of the leading power producers in the Great Lakes Region", On Friday, 6th October, 2019, UEGCL received a 5-year grant support from the Norwegian Government through its Ministry of Foreign Affairs. The signing of the agreement took place at the Norwegian Embassy in Uganda with Uganda Electricity Generation Company Ltd represented by Dr. Eng. Harrison E. Mutikanga – Chief Executive Officer, and the Norwegian Government represented by Her Excellence Ostebo Elin Johansen – Norwegian Ambassador to Uganda.
The Grant will specifically support UEGCL's Strategic Objectives of; Improved Knowledge Skills and Abilities, and Improved Asset management.
The overall objective of the Grant code named "HOME" (Hydropower Operation & Maintenance Excellence) programme is to establish UEGCL as a professional operator of the hydropower plants under its jurisdiction in Uganda. The programme will set UEGCL on the course towards Operation & Maintenance excellence of the new Isimba (183MW) and the soon to be commissioned Karuma (600MW) Hydropower Plants through provision of a wide range of capacity building activities for staff.
Key among the support areas will be support towards equipping the Hydropower Resource Centre at Karuma, and operational and maintenance technical support.
While speaking at the signing ceremony, Dr. Eng. Harrison E. Mutikanga – CEO, UEGCL emphasized the importance of the grant to UEGCL as a company and the energy sector at large. "UEGCL has been able to smoothly operate and maintain the 183MW Isimba Hydropower Plant since it's commissioning in March, 2019 and we are ready to operate the 600MW Karuma Hydropower Plant once it is commissioned in 2020." Said Dr. Eng. Mutikanga.
The grant totaling 84 million Norwegian Kroner will span a period of 5 years starting from 2020 to 2024 and will consist of 2 main projects highlighting the overall objective of the programme;
Project 1; Operation and Maintenance technical support
Project 2: Capacity building and Resource/Training Centre Development.