UEGCL Awarded In THe Digital Media Impact Awards 2018
The journey of a thousand miles begins with one step. The assertion is true of the Uganda Electricity Generation Company Limited's (UEGCL) journey to the digital world. Friday 21 September 2018 at Serena hotel was UEGCL's corporate affairs department's euphoria clouded with chanting as the company emerged the best digital non-consumer facing brand in this year's 2018 just-concluded digital impact awards Africa (DIAA). Noteworthy, this was UEGCL's first time in these awards which are in their 5th order of happening. The awards were handed over to the best companies in their respective categories by the Hon. Karubanga David- the minister of state for public service assisted by Dr. Maggie Kigozi and Sarah Kagingo-the newly elected president of the public relations association of Uganda (PRAU).
"We're here today to recognize and celebrate individuals, organizations across Africa that are spearheading the use of digital tools, Said Mr. Kiryoowa Innocent- CEO Hipipo & DIAA awards in his opening remarks at the award night.
UEGCL was nominated in three categories which included, best government agency/organization on social media, non-consumer facing brand and best utility brand respectively. In all of the above clusters, UEGCL shared competition space with organisations like National Water & Sewerage Corporation, KCCA, UMEME, NSSF, URA, UNRA, Total, Vivo energy to mention but a few.
The call for voting by the organiser in each category went out at the end of July 2018 and UEGCL embarked on soliciting for votes from its internal and external publics.
It is very important to note that the digitalisation of services, communication, and the company's internal operations is the trend in the 21 century corporate management. By and large, UEGCL has had its share in this dispensation!
"Our mandate has since expanded to acquiring, establishing, maintaining and operating electricity generation facilities in Uganda", Said Simon Kasyate-UEGCL corporate affairs manager adding that this responsibility requires a carefully selected communication's team, which we have already done.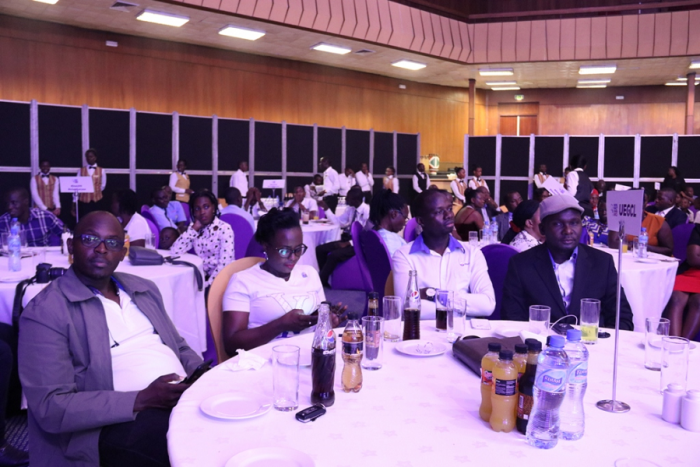 Simon Kasyate further noted that, UEGCL has got a brand Identity manual and corporate affairs department was charged with the custodianship of the company's corporate image. The identity manual is a composite of UEGCL color codes, logos and design layouts of every communication product the organization invokes.
To that effect, he further alluded that, several strategies to fully engage all UEGCL publics (online & offline) have been rolled-out by the department. Among the many included the different products online like the Isimba & Karuma people, our electronic and hard copy of GENEWS bi-annual magazine, GENEWS wire, to mention but a few all of which are accessible on the company website and social media pages.
The UEGCL's social media pages (Facebook and Twitter) have witnessed a tremendous growth in the past 11 months. This indeed is loudly noticeable as the communication's team expeditiously respond to inquiries raised by the online publics.
"Over 18,500 followers have been added to the UEGCL Facebook page, Said Muhammad Lubogo- UEGCL PRO further adding that over 1,250 new followers have joined the company's Twitter handle. Indeed our reward is not exaggerated but a symbol of team hard work, as he joyfully concluded!
" I can't wait any longer to see every standard operating procedure in this organization becoming digitized" Said, Dr. Eng. Harrison E. Mutikanga- UEGCL CEO while addressing staff in the first 2018 biannual performance evaluation workshop held at Protea-Kampala on 31 July 2018.
There is no doubt that the environment of UEGCL's adoption and implementation of digital tools is enshrined in its strategic plan of 2018-2023. In the same disposition, the guest of honor, Hon. Karubanga David-minister of state for public service lauded the NRM government for an enabling policy environment that has seen many private and public agencies sprout.
Although UEGCL did not win in the two categories it was named, some of the company officials believe that being among the first 5 corporate consumer brands itself is a great milestone that should not be taken for granted.
"We're rated among the fast 5 government growing agencies in effectively using Twitter and Facebook", Said James Otto- UEGCL's strategist, adding that our brand is loud in the energy sector and beyond even if we do not interact with consumer's as pa our mandate.
" This award is for our audiences because they've made us who we're", Said, Simon Kasyate- UEGCL corporate affairs manager adding that the challenge is on the team, we need to work hard to sustain our presence on the top but also bring more awards next time.