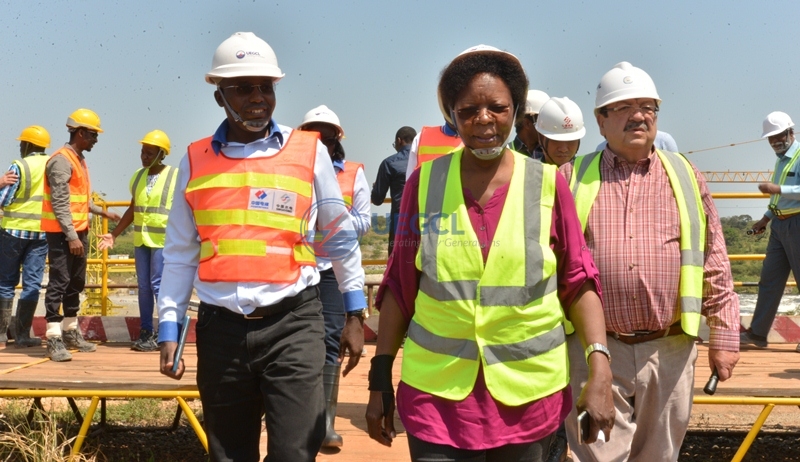 Karuma Project: Great Strides Despite Despite Some Challenges
On Wednesday, 6th December, 2017, the Board of Directors led by the Board Chairperson, Eng. Proscovia Margaret NJUKI visited the Karuma Hydro Power Project. The Board noted the progress so far made but was also concerned with quality control issues on health and safety, non-conformity, inaccurate concrete mixtures, theft on site among others that were brought to the attention of the Owner's Engineer and the EPC Contractor to avoid project delay.
As at 1st December, 2017, overall physical progress of works (dam, intake, surge chamber, Tailrace Tunnel, power house, Headrace Tunnel) is estimated at 71%.
Another major area of concern was the issue of Land acquisition delays associated with the Karuma Interconnection Project, which are feared to impact commissioning of the project.
The project is left with 12 months of the 60 months which represents 80% of the time progress.
"Despite these challenges, UEGCL as the implementing agency is working tirelessly with all stakeholders to ensure quality compliance of works, adherence to project schedule and enhanced cost control," said Dr. Eng. Harrison MUTIKANGA, UEGCL's CEO. Other achievements have been registered in the realm of occupational health and safety and the commencement of the Employer's Permanent Camp.
The Hydro Power plant component of the project cost is approximately USD 1.4 Billion. Accordingly, USD 783 Million has so far been paid to the EPC Contractor (Sinohydro), which represents financial progress at 56%.
As part of the strategic oversight role and monitoring of UEGCL's project implementation, the Board of Directors carries out quarterly visits to the 183 Megawatt Isimba HPP and 600 Megawatt Karuma HPP sites to assess the progress of works. The next visit to the sites is scheduled for the first quarter of 2018.