Insurance Sensitization drive by SANLAM at Isimba HPS
A sprouting economy resonates with increased investment in Infrastructure development. In Uganda – for example, most infrastructural developments have been realized through long term loans, that shall be borne by the tax payer. As a result, the role of insurance in securing these prized national assets cannot be more emphasized.
The 183 MW Isimba Hydropower station is one such strategic installation and the latest mega infrastructure project to be completed. Commissioned in March 2019, the Isimba dam is now under operation and maintenance by Uganda Electricity Generation Company Limited UEGCL. Operation and Maintenance of any such installation without cognizance to matters insurance is without a doubt taking a perilous road trip down a cliff without so much as fastening one's seat belt.
For your comfort, Isimba hydro Power station is Insured! Through Clarkson Insurance Brokers Limited – a leading Insurance broker in the region, UEGCL secured the services of SANLAM – a solid, stable and leading insurer in sub-Saharan Africa, and Jubilee Insurance to cover the insurance of our vital assets and dams.
But of what good is the insurance policy documents and certificates if the operators are ignorant and in some extreme cases oblivious of inherent risks that may cause those catastrophes against which insurance exists?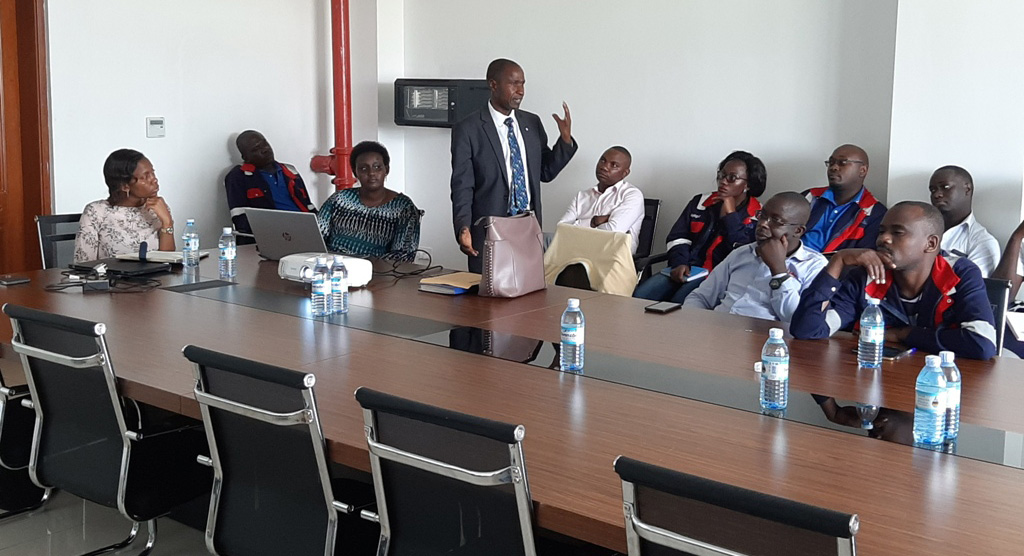 On Wednesday November 6th, 2019.; Brokers Limited, were at Isimba HPS on a sensitization mission. The insurer was at the plant to educate the staff on an array of covered insurance policies. These policies majorly cover all Industrial risks associated with the plant. These risks include; Material Damage (All Risks), Machinery Breakdown (MBD), Electronic Equipment and Generation Loss- Business Interruption.
"The Material Damage coverage is on an all risk basis, for losses arising out of; Fire and allied perils like Fire Lightening, Explosion / implosion, Riot, strike, malicious damage (RSMD), – Storm, cyclone Typhoon, Tempest Hurricane, Tornado, Flood & inundation – (STFI), Impact damage, Subsidence & Landslide including rockslides and collapsing slopes. The list is expounded in the Policy manuals" said Godfrey Kisirinya Buyondo, the COO of Sanlam General Insurance.
Mr. Godfrey further intimated that insured Damage under Machinery Breakdown covers any unforeseen physical loss or damage to machinery declared by any cause not specifically excluded which necessitates repair or replacement to allow continuation of use. Cover applies whilst machinery is in use or at rest, provided the cause of damage of the machine at rest originates from another machine in use. This also covers accidents caused by negligence, lack of skill, faulty material or design, insufficient lubrication and entry of foreign bodies.
The COO also shed light on actions that may affect the claims made against the insurer. "Damage from war / related perils and terrorism, damage to property by or under the order of any government or public or local authority, damage by moths, termites or other insects, vermin, or any error in design, plan or specification or failure of design, are major exclusion from this Insurance cover," Godfrey said. "Loss as a result of fraud or dishonesty committed by an employee and further retardation of work processes due to labor disputes shall not be covered"
The UEGCL Staff at Isimba HPS welcomed the sensitization made by Sanlam. The management of the plant promised to constantly keep in touch with their insurers for a smooth relationship.