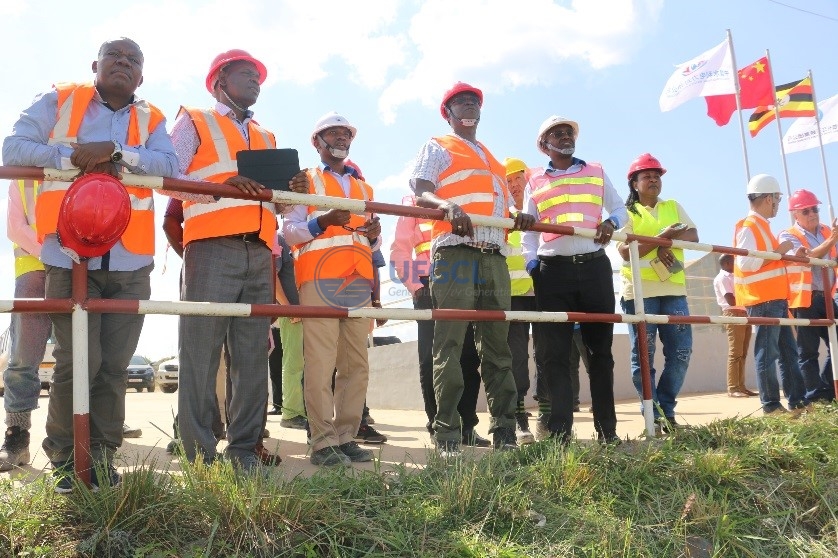 Committee On Natural Resources- Parliament of Uganda Lauds UEGCL Progess At Isimba HPP
It was on October 4, 2016, when the Parliamentary committee on Natural Resources last visited the 183MW Isimba hydro power project. One year later, the committee, led by Chairperson, Hon. Alex Byarugaba (MP Isingiro South) returned. Their number lean and with no female member except for a Research assistant, the committee was welcomed by State Minister for Energy Hon. Simon D'ujanga, Project Steering Committee chairperson Eng. Dr. Badru M. Kiggundu , UEGCL CEO Dr. Eng. Harrison E. Mutikanga and Prof. Wang Yongtian, the Project manager China Water and Electric corporation, the contractor.
We have come to check if the previous issues we found like cracks, the integrity of the embankment dam, compensation for some project affected people, the access road to Kamuli, safety for workers and others have been fixed," Said Hon. Byarugaba.
The committee was appraised on progress of the project so far, the gains and the challenges as well as the sticking issues that will require their support to surmount.
Eng. Kiggundu briefed them on the reason for non-renewal of the contract for Energy Infratech PVT Ltd (the Owner's Engineer), which expired on September 7th 2017. "You will agree with me that management and specifically project management will often demand taking hard decision and administrative sanction but all this is within good faith and the overriding desire for success," he said, adding, "History will judge us harshly if we, as the Project Steering Committee or as Ministry of Energy or UEGCL or even you as a concerned committee of Parliament looked on while specifications were altered at a whim, works went shoddy with reckless abandon and timelines negated without restraint at the country's flagship hydro power projects."