UEGCL Names the New Onwer's Engineer For the Isimba(183MW) HPP
Uganda Electricity Generation Company Limited (UEGCL) has named the new owner's engineer for the Isimba (183 MW) hydropower project (HPP). The Owner's Engineer is ARTELIA EAU and Environment- a French Company in association with KKATT Consult Uganda Limited. ARTELIA has got a rich global experience in supervising design and construction works for large hydropower developments with proven familiarity to deal with different contractual arrangements such as EPC and Design & Construct contracts (DCC). Whereas KKATT is a local company with a rich experience in hydropower, roads and oil and gas.
"We brought a new dimension in Uganda because the new OE for Isimba HPP is in a consortium of local firm, KKATT", Dr. Harrison E. MUTIKANGA, CEO of UEGCL told journalists at the Company Head office in Kampala adding that, "this will also will increase the consulting capacity of our local engineers".
The ARTELIA-KKATT consortium was announced to the local media during an event at the company headquarters in Bukoto, a Kampala suburb on Thursday 18 January 2018.
UEGCL together with independent Project management consultants has been the interim Owner's Engineer at Isimba HPP since September 2017 when the contract of Energy Infratech Pvt Limited the former OE, expired.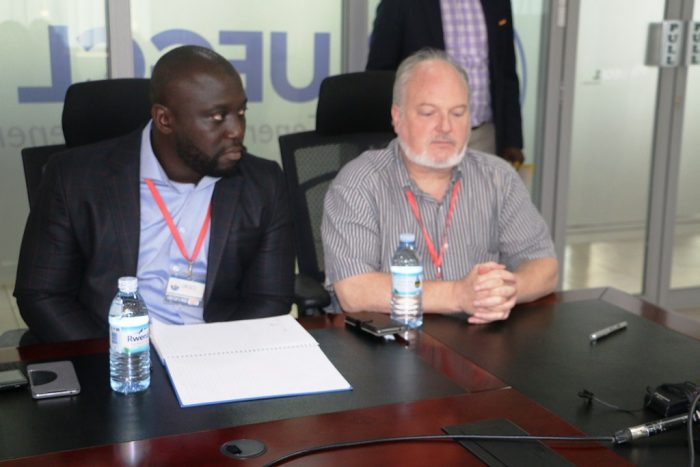 The role of Artelia Eau and KKATT consult limited as per contract includes although not limited to design review, quality assurance, project supervision and ensuring strict enforcement of contractual obligations are met by the Engineering Procurement & Construction Contractor (EPCC), China International Water & Electric Corporation Limited (CWE).
Dr. MUTIKANGA underscored the significance of the OE in the implementation of the project by guaranteeing that the supervisor will ensure that we have a fit for purpose facility come August 2018. He added that due diligence had been taken in the selection of the new owner's engineer.
"We applaud the President of Uganda, H.E YK MUSEVENI, the cabinet, the ministry of energy, the ministry of finance, solicitor general and the board of directors for all the support and ensuring that we have a new OE for Isimba HPP ", he said.
The engagement of the new Owner's Engineer for the Isimba (183 MW) HPP is twelve months and comes at a cost of 4 Million US Dollars with a possibility of extension up to eighteen months.