UEGCL At The 79th African Water Association Scientific Fair
For the next 5 days, the 79th Africa Water Association (AfWA) Scientific Technical Council (STC) and exhibition gets underway in Kampala. Hosted at the National Water & Sewerage Cooperation (NWSC) Resource Center at Bugolobi, the exhibition has attracted several industry players in the water and other support sectors; Uganda Electricity Generation Company Limited (UEGCL) is one of them.
UEGCL is showcasing the progress on the two flagship hydropower projects of Karuma (600MW) and Isimba (183MW) while at the same time sharing on its extended mandate in delivering 'reliable, quality and affordable electricity for socio-economic development'. The showstopper attraction at the UEGCL booth is the Karuma project model showing the 'spaghetti connection' of tunnels and ADITs in the underground structure that the power project is. "This is undoubtedly a huge project," mused Dr. Christopher Ebal, Board Chairperson NWSC and Chairperson of AfWA when he visited the UEGCL stall.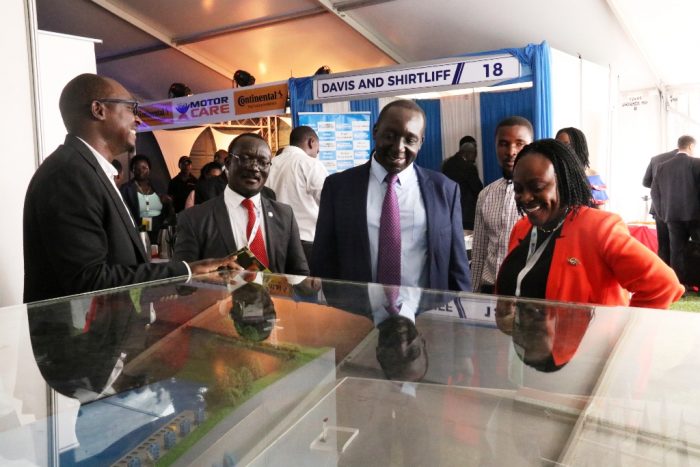 'Other exhibitors at this event include Huawei, Umeme, Roofing Uganda Limited, Uganda Telecommunications Limited, Davis & Shirtilif and the host NWSC.
Under the theme: "Harnessing ICT to accelerate sustainable water and sanitation for all in Africa", the 5-day conference and exhibition was officially launched by the State Minister for Water, Hon. Ronald Kibuule. Present at the launch were the AfWA president Usher Sylvain, AfWA delegates from a host of African countries as well as local partners like KCCA Executive Director Mrs Jennifer Musisi and her NWSC counterpart Dr. Silver Mugisha.
The African Water Association (AfWA) is a professional association of establishments, enterprises, and utilities operating in the areas of drinking water, sanitation and environment in Africa. AfWA has got over 100 utilities members from some 40 countries across Africa. AfWA is mandated to enhance the exchange of ideas and recent developments in the water and sanitation industry, which it does through the quarterly Scientific Technical Council (STC) meetings among others.