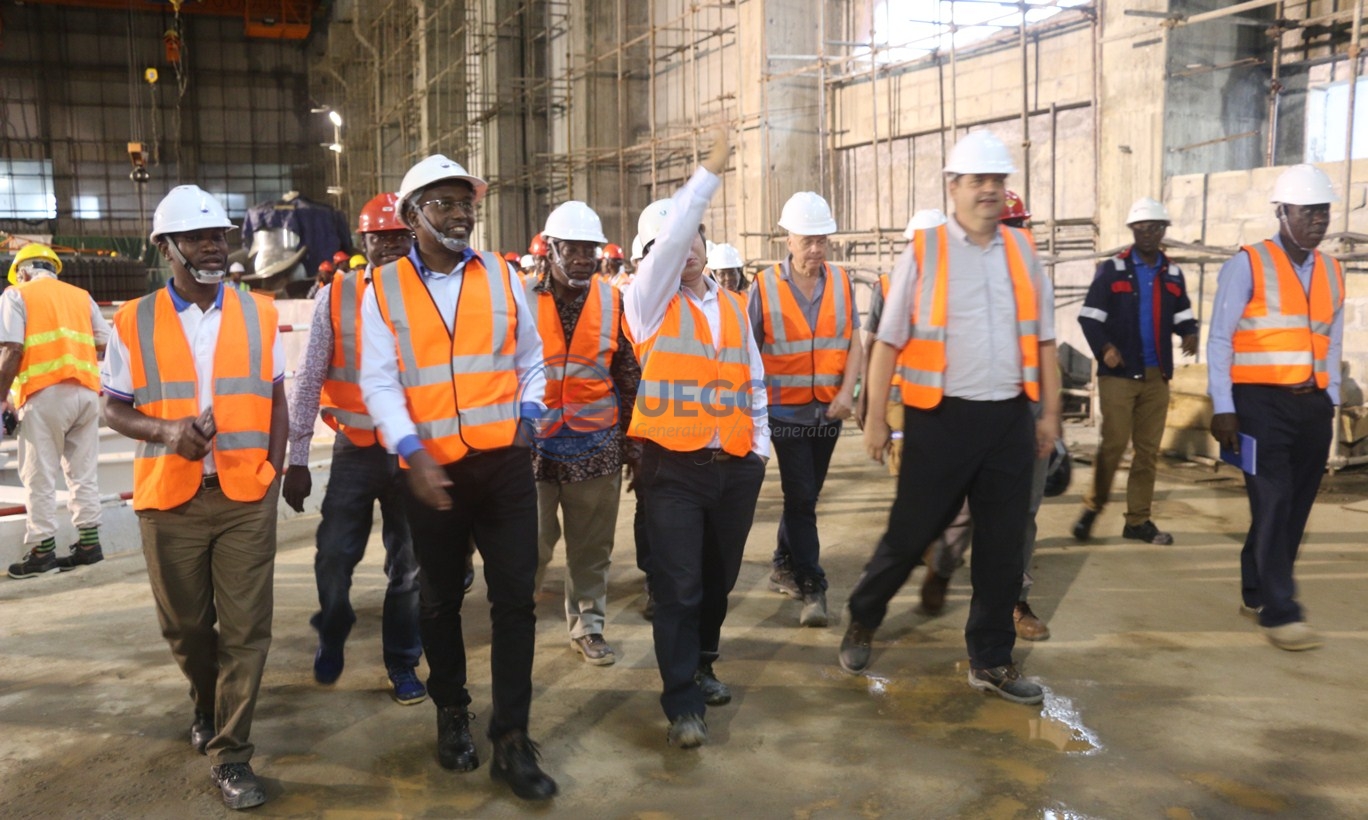 The Project Steering Committee Commends Workd At the Isimba (183MW) HPP
General project progress at Isimba (183MW) hydro Power project is at over 80% while the installation of the turbine parts (electro-mechanical components) is way past the 60% mark as the project heads into its last five months on its completion schedule. This, according to the Project Steering Committee PSC, is commendable progress and provides the much-needed hope that the Isimba hydro power dam will be on the grid by this years end.
This commendation of the PSC was made during their last site visit to Isimba on Wednesday February 28, 2018. Led by the Chairperson-Eng. Dr. Badru M.Kiggundu, the committee is comprised of a representative of the Permanent secretaries for the Ministries of Energy and Mineral Development, Finance Planning and Economic Development as well as Justice and Constitutional Affairs. The other members present were the Chief Executive Officer of Uganda Electricity Generation Company Limited UEGCL and a representative of the Chief Executive of Uganda Electricity Transmission Company limited UETCL.
The PSC visit included meeting with site officials from UEGCL, UETCL, Ministry of Energy, the new Owners' Engineer Artelia and KATT and the contractor China Water and Electric Corporation CWE.
In a meeting after a guided tour of the project area, Eng. Kiggundu noted and commended the contactor's pace, making up for previous lost time. He however cautioned against occupational Health and Safety arguing that the safety of workers on site is as important as timely completion of the project.
The Project Steering Committee was constituted by President Museveni as the overall oversea of the country's flagship hydro power projects of Karuma (600MW) and Isimba (183MW). The committee conduct regular site visits to check on the progress of the projects.
During the Isimba tour of February 28, the committee was taken on a guided tour of the powerhouse, right embankment and left embankment dams respectively.
Once complete, the power from Isimba shall be transmitted through a 42 KM transmission line rated at 132 kV that will join the rest of the national grid at the Bujagali switchyard. Isimba and Karuma are expected to significantly reduce on the end user tariff once commissioned. Both projects are being constructed using concession loans from China's Exim Bank and funding from Government of Uganda.