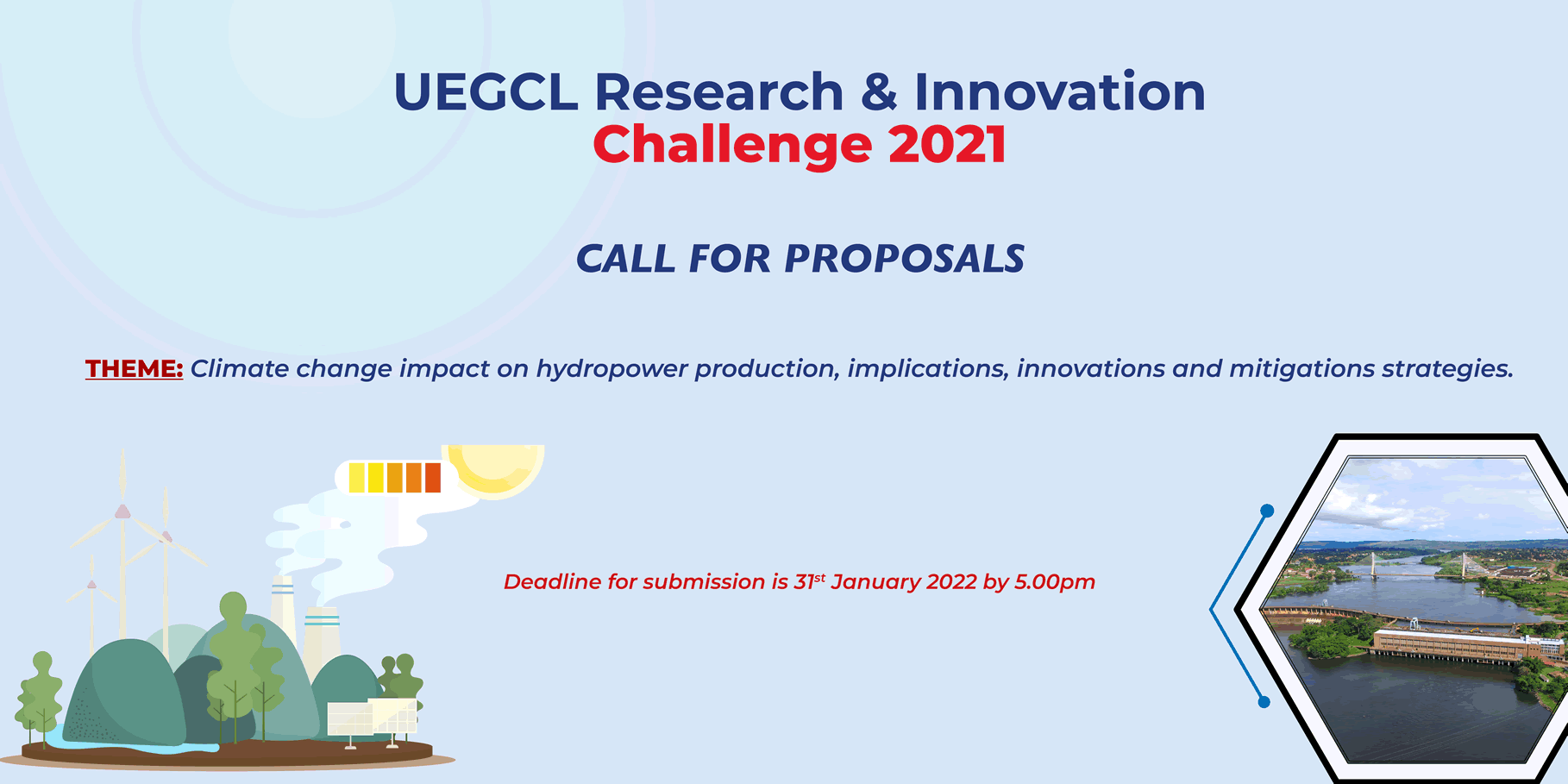 Research & Innovation
UEGCL's Research, Innovation, and Development program is founded and runs on a robust Research and Innovation policy, which clarifies on the workings of research and innovations at an organization level. In addition to the policy, there's a Strategic Research Agenda based on which most research programs are run. The Strategic Research Agenda is founded on the core mandate of UEGCL – to establish, acquire, maintain and operate electricity generation facilities, and to promote research and development in the electricity generation sector while running the company on sound business principles. The different research and innovation programs all feed into the company's strategic plan, as well as the Government of Uganda NDP III and Vision 2040.
Our Research Programs
1. Climate change impacts, mitigation strategies for hydropower (CCIMS)
Climate change is a global challenge that directly affects renewable energy Generation. The focus of CCIMS program is to contribute home grown research solutions relevant to the climatic context of Renewable Energy Energy Generation and the Water-Energy Nexus. The CCIMS program fosters initiatives for data sharing on the broad climate problem. The program also promotes partnerships with both local and international organizations with a shared goal and interest of finding solutions to the climate change problem, promoting cleaner energy generation and overall reduction in carbon emission.
2. Structure Integrity and Seismic Hazard (SISH) monitoring for Hydropower Infrastructure (SISH)
The western arm of the rift valley which is a continental divergent rift is home to a number of key infrastructure projects including oil resources and Karuma HPP. The SISH main focus is on monitoring of seismic activities and reporting on any potential threats to the hydropower infrastructure. The SISH program also focuses on the Monitoring of the Integrity of the Hydraulic Infrastructure. The aim at developing mitigation strategies for the Hydraulic Infrastructure.
3. Water Level Monitoring of the Nile Cascade, Nalubaale HPP to Karuma HPP (WLM)
The infrastructure on the cascade is highly sensitive to water levels. The WLM program is directly involved with monitoring water levels and collaborating solutions for the Water-Energy nexus. The WLM program also promotes research in developing and improving models to better understand the hydrology of the Nile cascade.
4. Water weed Management on the Nile cascade (WWM)
Water weed has for long been a standing issue on the Nile cascade. This program focuses on promoting the development of infrastructure for value addition to water hyacinth such as development of bio-digesters at the generation sites. The program also directly focuses on fostering research and innovations into water weed management
5. Community Transformation through Research (CTR)
The CTR program's main goal is to coordinate and partner with research initiatives that directly empower communities and are directly in line with enhancing UEGCL Mission and Vision.
6. Sustainability of Hydropower (SHP)
The SHP main goal is to promote research into ecosystem variables that directly affect electricity generation sustainability like associated policies, project finance frameworks and project success evaluation criteria plus their associated impacts.
7. Concrete studies in hydropower (CSH)
The CSH program focuses primarily on promoting and coordinating research initiatives for concrete improvement, defect management across the dams. The program focus is concrete quality studies and innovation initiatives to mitigate challenges such as ASR in concrete.
8. Operational Efficiency (OE)
This OE program's main focus is on monitoring, optimizing and improving the efficiencies, reliability and availability of generation infrastructure. The program focuses on fostering the development of predictive models and intelligent systems that directly enhance operational efficiency
9. Floating solar on Hydropower Reservoirs (FSHR)
Floating solar is a new solar technology that has taken trend around the world. Floating solar provides a way to effectively utilize hydropower power reservoirs and enhance solar generation by maintaining cooler panels. The FSHR program's main focus is to promote research in the field of floating solar data sharing to better understand and improve a diversified generation.
Ongoing Research & Innovation Programs
1. Value for Money Analysis and Optimization of Public Funding for Renewable Energy Public Private Partnership Projects (PPPs)
Projects, whether implemented as public investment/traditional procurement or as public private partnerships do have risks that have fiscal implication on government and state owned agencies like UEGCL. Most of the risk analysis done is mostly qualitative. There is a need to do quantitative risk assessment which also includes establishing cost estimates of risks that are allocated to parties in infrastructure projects. PPPs can demand considerable fiscal space and reduce budget flexibility in the long term, thus the need to have a comprehensive and scientific approach to Value for Money analysis and also government intervention in the projects.
2. Flood control at Isimba HPP, could it have been done better?
Isimba HPP is a low head hydropower plant with an installed capacity of 183MW that was designed for a 20-year flood of 2200 m3/s, 1,000-year flood of 3500 m3/s, and 10,000-year flood of 4500 m3/s. In April 2020, inflow into Isimba's reservoir from upstream plants reached 2200 m3/s which lasted until May 2020 when inflows increased to 2400 m3/s, before reducing to 2000 m3/s in July 2020. According to standing procedures on operation under flood conditions at Isimba HPP which were developed by EDF, operation with inflows less than 2200 m3/s is a normal operating state for which the reservoir level should be maintained at or below the full supply level of 1054.5 m, while operation with inflows higher than 2200 m3/s is a flood state for which the reservoir level should be maintained below the highest flood level of 1055 m. As per these standing procedures, Isimba HPP should have aimed at keeping the reservoir level below 1054.5 m until May 2020 when inflows were equal to or less than the 20-year flood, and below 1055 m thereafter when inflow exceeded the 20-year flood.
3. Effect of turbine operation efficiency on long-term durability
Operation of HPP turbines at low efficiencies and or outside the manufacturer recommended range as per the Turbine Hill Chart during the period of increased discharges from Lake Victoria
4. Hydraulic Structure Defect Assessment and Concrete Repair Design
All concrete dams are subject to seepage which would significantly increase maintenance costs and also gradually decrease the useful design life of the structure. Inappropriate concrete repair design has led to the premature reoccurrence of the previously treated leakages and therefore raised a need for a robust concrete repair design to treat both the latent and patent defects
5. Water Level Lake Management for Lake Victoria
In light of growing concerns of rising water levels, the study investigates the efficiency of four empirical forecasting models. The best model will be selected and used to develop a forecasting system that can be directly deployed at the dam sites. Because of the dependence of the system on data, self-calibration will be utilized to counteract time series inaccuracies ensuring simplicity in the model. Improved surveillance of the dam water levels is expected to improve the process in planning the opening and closing of the sluice gates by providing insights into projected reservoir levels. Furthermore, the proactive water level surveillance will enhance electricity generation planning and mitigate problems that could arise due to flooding consequently enhancing dam safety inform of an early warning water system
Our Partners